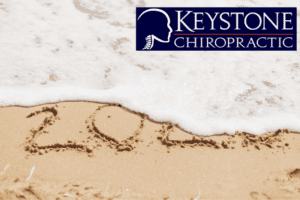 As much as 2021 was an improvement over 2020, there were still many things that reminded us that there is no "normal".
Of the many things that we hope people learned, taking care of yourself is central to your physical and mental health. We know that our patients understand that we are committed to helping them be the best they can be, and, in 2022, we are hopeful that we will be able to share that message with even more people.  Between the science surrounding chiropractic care, and the common sense that tells us that our bodies are machines that will operate most effectively when all parts are well cared for, we are eager to share the message of wellness with as many people as possible.
Essentially, self-care is all of those things we do for ourselves to keep us healthy. Most of us would love to avoid major illness, and the science shows that chiropractic care can play a major part in helping to ensure that that happens. Focusing on self-care after the year we had in 2020 seemed to be a focus for many people, and, in this blog, we encourage you to incorporate chiropractic care into those plans.
Where does it hurt?
Those seemingly odd (and definitely annoying) aches and pains that come with aging can be a great opener for jokes.  But the reality is that a stiff knee, a sore shoulder, and an achy elbow can be indicators of an issue with mis-alignment. Aches and pains cause disruption to our sleep, affect our mood, can cause depression and much more! Think of those pains as a "check engine light" and get it checked out to be sure that you are enjoying the best quality of life, and, as this blog highlights, regular chiropractic care can ensure that you are not setting yourself up for future pain as the result of a mis-alignment.
What is a Keystone?
Many of our patients know that we changed our name recently, and may be questioning what that means. We are still practicing upper cervical chiropractic, where we focus on the upper portions of the spine; this area can also be considered the keystone of the structure of our bodies, so we thought the name was a better descriptor of our focus. This blog sheds some light on our new name, and why we think looking at, and working with the "keystone" is key to chiropractic health.
Get Your ZZZs
Many health practitioners and wellness experts consider sleep the third leg of a stool. It is just as important as nutrition and exercise when it comes to our overall function and wellness, and is often one of the first things to be discarded as we go about our busy lives. Unlike with nutrition and fitness, there are now quick fixes…you can't learn tips and tricks that will allow you to get more sleep in less time. This blog explores the value of sleep, and provides some tips for ensuring that you get high quality sleep.
Warrior vs Athlete
As we age, and our life evolves, the way that we exercise often changes as well. Approaching fitness more like a warrior can be helpful, and shifting your mindset can help you focus your energies on the type of training that will help you "battle" each obstacle that life throws your way. This blog shares the difference between that athlete and warrior mentality and provides some simple ideas to get you started on the right training path for you!
The Future is Here!
We are so excited to offer our patients 3D Imaging! The Cone Beam CT (CBCT) allows us to identify issues more easily, check and monitor corrections at a glance, and has already helped us deal with difficult patient issues!  And best of all, the process is painless and non-invasive, and the machine emits less radiation than you would be exposed to on a cross country flight! Read here to learn more about the CBCT.
About Keystone Chiropractic
As an engineer, Dr. Schurger looks at the whole body as a system to determine what is best for each patient. Custom spinal imaging is performed for each patient in order to create a custom correction. Dr. Schurger has transformed himself through the ketogenic diet and offers nutritional advice to help patients improve their overall health (weight loss being a side effect). His practice, Keystone Chiropractic, focuses on upper cervical chiropractic care, and is located at 450 S. Durkin Drive, Ste. B, Springfield. Call 217-698-7900 to setup a complementary consultation to see if he can help you!