Are you looking for ways to eat healthy this holiday? We've got a couple of ideas that you are sure to add to your holiday rotation this season!
Doctor Schurger LOVES to cook healthy meats. And he truly loves making foods that taste good. While he's a stickler for using the best ingredients, he's adamant that his recipes not be too complicated either. For him, this lamb roast is one of those recipes!!
Gordon Ramsay Leg of Lamb
1 Tbsp each Cayenne, Ground Cloves, Paprika, Salt, Cinnamon, Fennel Seeds, Turmeric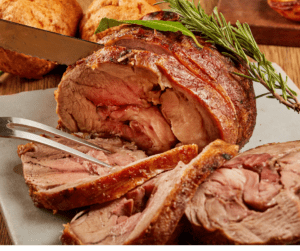 3-5 Cinnamon sticks
Sprigs of Rosemary
Sprigs of Thyme
1 or 2 legs of lamb (4-5 lb each, we do bone-in/semi-boneless)
carrots, onions & celery
Gordon Ramsay's video makes this look easy, and honestly, its harder for me to write down the ingredients as fast as he puts them out there!! And completely ignore the comment on not needing all the spices, because once you've done this whole, you realize how necessary the spices are. Also, the spice level is intense, but not overly hot, as long as you mix the spices together well.
Simply follow the video, use a digital thermometer to monitor your internal temperature (we go for medium rare, pulling the roast around 135-140˚F,
and letting carry-over heating get you to perfect medium rare), let the roast rest for about 10 minutes before cutting (there's the carry-over time!!), and
enjoy!
For us, any time we see a good price on a leg of lamb, this is what's for dinner!!
Looking for something a little sweeter? Check out this dessert.
Double Coconut Cowboy Cookies
Pre-heat your oven to 350 F. Prep the wet ingredients first, and the dry ingredients 1 and 2 before combining as it all comes together fast.
Wet Ingredients
1/2 cup butter (I recommend Kerry Gold Unsalted), softened
1/2-3/4 cup demerara sugar
2 tsp vanilla
6 eggs
Cream the softened butter & the sugar together in a mixer. You can add the vanilla here too. Once creamed, add the eggs and work the eggs together in the mixer. You will find the need to work the sides of the bowl down, as this many eggs don't work easily with the creamed butter. It may seem like it is too much liquid now.
Dry Ingredients – 1
1 cup coconut flour (we use Better Body Coconut flour)
1 tsp baking soda
1/2 tsp salt
Mix the dry ingredients together, and then pour them into the wet mix. Enjoy watching this turn into a cookie dough that looks like your typical chocolate chip cookie dough. You'll need to scrape down the sides once as you go.
Dry Ingredients – 2 – all the goodies!!
1 cup each chocolate chips (Ghirardelli 60%/baking chips are my favorite), oats, unsweetened coconut flakes chopped walnuts
Pour "the goodies" into the mixing bowl and mix into the batter. It should look like a typical chocolate chip cookie dough.
The size of the cookies is completely up to you, but I have found a #20 disher works great to get about 22 cookies. Dish out your cookies on a cookie sheet, then go thru and roll them with your hands to create small balls/patties. This recipe doesn't allow for cookies to spread out, allowing you to put them close to each other. But you must have the cookies rolled tight, as they won't hold together well without this step.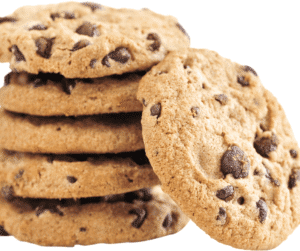 Bake the cookies for 10-14 minutes. They should be slightly golden brown, but not necessary. Move to a wire rack and let them cool (or eat a couple shortly after).
If you use a cookie jar, let them sit overnight before putting them in. I use a cookie jar, and even after the overnight the cookies soften up in the jar. While I
never have had the cookies go bad in the jar, keep an eye on them from doing so, as the increased moisture in the jar may allow mold. Of course, this also implies that you won't eat 2 per meal, which I do every evening.
Again, I find 2-3 are enough for me. I get my sweet-tooth fix, but instead of going hog wild on cookies, I feel full & satiated. And in the morning, when I get on the scale, it often doesn't go up!!
Enjoy!!
About Keystone Chiropractic
As an engineer, Dr. Schurger looks at the whole body as a system to determine what is best for each patient. He performs custom spinal imaging for each patient in order to create a custom correction. Dr. Schurger has transformed himself through the ketogenic diet. As part of his practice, he offers nutritional advice to help patients improve their overall health (weight loss being a side effect). His practice, Keystone Chiropractic, focuses on upper cervical chiropractic care, and is located at 450 S. Durkin Drive, Ste. B, Springfield. Call 217-698-7900 to set up a complimentary consultation to see if he can help you!