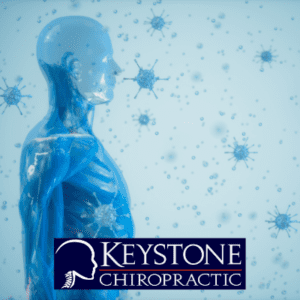 Clinical research finally shows what we've known all along: There's a relationship between chiropractic care and immune function!
If you've been in chiropractic for any length of time, one of the things you're bound to have heard about is how beneficial chiropractic is for immune function and immune health. Many have heard of Dr. Ronald Pero's research out of the University of Lund showing improvements to the immune system after chiropractic care, the numbers of people that were saved during the Spanish Flu pandemic under chiropractic & osteopathic care compared to medical care, or just the teacher who reports that she no longer gets sick around her students & peers when it's cold & flu season. Unfortunately, these examples have been critiqued for having poor documentation or being anecdotal evidence. Thankfully, the chiropractic profession now has peer-reviewed clinical research showing a relationship between chiropractic care and the immune system!
On April 6, 2022, Secretory Immunoglobulin A and Upper Cervical Chiropractic: A Preliminary, Prospective, Multicenter, Observational Study was published in the Journal of Chiropractic Medicine, showing an increase in secretory IgA (SIgA) after an upper cervical adjustment at the cranio-cervical junction. A five-site study was performed utilizing the most popular Upper Cervical Adjusting Techniques (UCATs) to observe changes in SIgA after an adjustment. We found a statistically significant increase in SIgA from baseline to 30 minutes after an adjustment. SIgA levels dropped to baseline levels after two weeks.
Our research suggests that after an upper cervical adjustment, a systemic immune response is activated for a short period. Our innate immune system is our first line of defense against outside invaders. While it communicates with our adaptive immune system for a long-term response, the innate system is non-specific and responds rapidly. Among the components of the innate immune system is secretory IgA. SIgA is the most abundant immunoglobulin in the human body and the most important immunoglobulin to fight infectious pathogens in the respiratory and digestive systems at the point of pathogen entry. It is present in mucosal secretions, such as saliva, tears, and breast milk. SIgA attaches to antigens on viruses and bacteria and can delay or prevent them from penetrating the epithelium at mucosal surfaces.
Early discussions of how best to fight SARS-CoV-2 included how best to bolster the response of mucosal IgA through vaccines. One study looked at IgA responses in 159 patients, and found that early SARS-CoV-2 humoral responses were dominated by IgA antibodies, finding that IgA contributed to virus neutralization to a greater extent compared to IgG. Further, the neutralizing IgA remained detectable in saliva for 49 to 73 days post symptoms. The role of IgA in fighting SARS-CoV-2 is still being explored.
Our study to determine the impact of chiropractic adjustment on immune function included the most utilized UCATs: Atlas Orthogonal, Blair, Knee Chest, NUCCA, and Orthospinology. Our researchers were located in Illinois (3), Florida, and Toronto, Canada. All adjusting doctors were either a Diplomate (one a DCCJP student at the time samples were collected) or Fellow of the Chiropractic Craniocervical Junction Procedures program. UCAT protocols were followed for each technique as taught by their respective groups, and adjustments were restricted to C1 & C2 for study participants during this period of time. We accepted patients for the study January 1 – June 1, 2019. Saliva samples were collected just prior to a new patient's first adjustment, 30 minutes after the adjustment, and after two weeks. We found a statistically significant increase in SIgA from our baseline to our post-adjustment samples. After two weeks, levels returned to baseline. Our study also used the SF-12 survey to measure corresponding changes in overall physical and mental health over time. We found that both physical and mental health scores significantly improved during the two-week period.
This study showcases the strength of Upper Cervical adjusting in relation to immune function, as it focuses on the ability of these often very different procedures to share similar outcomes overall. Other studies have supported this, showcasing similar positive outcomes among Upper Cervical practitioners, demonstrating excellent improvement in a patient's overall health.
Please note that our study is a pilot study, and further research is needed to understand the mechanisms behind our observations regarding SIgA secretion. We encourage other chiropractors to perform similar studies to replicate our findings. We recommend repeating our study with more frequent samples and collecting data over a longer time period to explore in greater depth how SIgA changes over time. We are grateful to the Upper Cervical Research Foundation and the Orthospinology Society for their generous funding of this study. Donations to either organization are appreciated so we can continue sharing clinical evidence of what we know to be our amazing innate abilities.
For additional information about this study, Keystone Chiropractic, or to book Dr. Schurger for a speaking engagement, please contact Dr. Schurger by email at [email protected] or call Keystone Chiropractic at (217) 698-7900. Keystone Chiropractic is located at 450 S. Durkin Dr, Ste B, Springfield, IL 62704.
As an engineer, Dr. Schurger looks at the whole body as a system to determine what is best for each patient. He performs custom spinal imaging for each patient in order to create a custom correction. Dr. Schurger has transformed himself through the ketogenic diet. As part of his practice, he offers nutritional advice to help patients improve their overall health (weight loss being a side effect). His practice, Keystone Chiropractic, focuses on upper cervical chiropractic care, and is located at 450 S. Durkin Drive, Ste. B, Springfield. Call 217-698-7900 to set up a complimentary consultation to see if he can help you!
To download the complete article, please visit: https://www.sciencedirect.com/science/article/pii/S1556370721000365